Event Info
Monika Kruse's commitment and innate musical connection is the key to her status as one of techno's most beloved and enduring artists for more than 25 years. From trailblazing the dawn of the German dance culture in the early '90s, organizing raves in abandoned Munich WWII bomb shelters, to launching her revered Terminal M label in 2000. This year you'll see her play across Awakenings, Time Warp, Hyte Ibiza, Sonus and beyond. Monika truly stands as one of Europe's true techno pioneers and one of the genre's most loved artists.

For this special night, she will be joined by Niels Feijen, who has played at Tomorrowland, Extrema Outdoor, Fuse Brussels and the Elrow party's.

Last but not least, one of our Belgiums best friend Selem and Tunnelvisie residents Equals 2 will close and open the night in style!
LINE UP
✗ Monika Kruse
✗ Niels Feijen
✗ Selem
✗ Equals 2
Visual show by Clubkind
TICKETS
Ticket sale starts Monday 20-01-2020 (12:00)
Check this Ticketlink: https://bit.ly/37bH8pl

PLACE TO EAT?
Happy food & drinks before the party? Check our hide-out www.noonmaastricht.nl situated next to the club.
PLACE TO SLEEP?
http://bit.ly/ComplexAccommoda...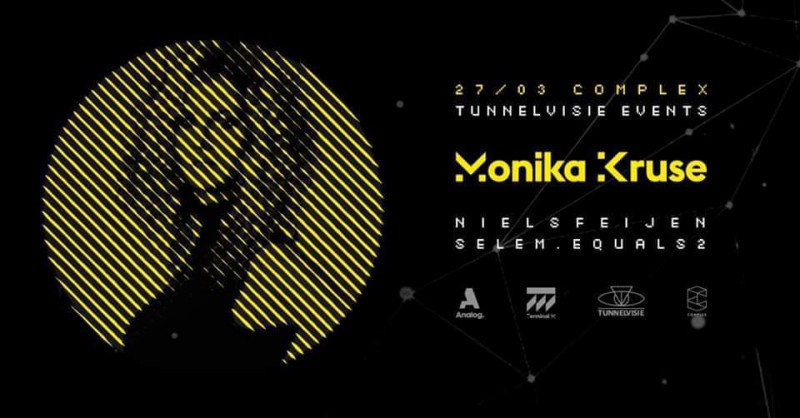 Time & Date
Friday, 27 March 2020
23:00 - 05:00