Event Info
𝙒𝙝𝙤 𝙞𝙨 𝙧𝙚𝙖𝙙𝙮 𝙩𝙤 𝘽𝙪𝙢𝙥 𝙖𝙣𝙙 𝙂𝙧𝙞𝙣𝙙?! 𝙨𝙞𝙣𝙜 𝙖 𝙡𝙤𝙣𝙜 𝙩𝙤 𝙩𝙝𝙚 𝙝𝙤𝙩𝙩𝙚𝙨𝙩 𝙏𝙧𝙖𝙘𝙠𝙨? 𝘼𝙣𝙙 𝙚𝙣𝙟𝙤𝙮 𝙩𝙝𝙚 𝙫𝙞𝙗𝙚𝙨 𝙛𝙧𝙤𝙢 𝙗𝙖𝙘𝙠 𝙞𝙣 𝙩𝙝𝙚 𝙙𝙖𝙮𝙨? 𝘾𝙤𝙢𝙚 𝙖𝙣𝙙 𝙟𝙤𝙞𝙣 𝙪𝙨!!

— 𝘞𝘩𝘢𝘵 𝘵𝘰 𝘌𝘹𝘱𝘦𝘤𝘵 —
𝘙𝘌𝘈𝘓 𝘢𝘵 𝘊𝘰𝘮𝘱𝘭𝘦𝘹 𝘔𝘢𝘢𝘴𝘵𝘳𝘪𝘤𝘩𝘵! 𝘈 𝘯𝘪𝘨𝘩𝘵 𝘧𝘶𝘭𝘭 𝘰𝘧𝘧 𝘙𝘯𝘉 𝘚𝘰𝘯𝘨𝘴.. 𝘜𝘯𝘪𝘲𝘶𝘦 𝘣𝘭𝘦𝘯𝘥 𝘣𝘦𝘵𝘸𝘦𝘦𝘯 𝘵𝘩𝘦 𝘩𝘰𝘵𝘵𝘦𝘴𝘵 𝘤𝘭𝘢𝘴𝘴𝘪𝘤𝘴 𝘰𝘧 𝘵𝘩𝘦 𝘱𝘢𝘴𝘵 𝘢𝘯𝘥 𝘵𝘩𝘦 𝘣𝘦𝘴𝘵 𝘴𝘪𝘯𝘨𝘢𝘭𝘰𝘯𝘨𝘴.

◣ 𝙇𝙄𝙉𝙀 𝙐𝙋: ◥
𝘙𝘌𝘈𝘓 𝘚𝘰𝘶𝘯𝘥𝘴𝘺𝘴𝘵𝘦𝘮:
𝘋𝘑 DJ BIG ROB
𝘋𝘑 Lyricist
𝘋𝘑 El Don
𝘏𝘰𝘴𝘵𝘦𝘥 𝘣𝘺: 𝘔𝘊 𝘞𝘪𝘭𝘭
◣ 𝙏𝙞𝙘𝙠𝙚𝙩𝙨𝙖𝙡𝙚𝙨 ◥
𝘛𝘪𝘤𝘬𝘦𝘵𝘴 bit.ly/3B3KZCQ
𝘗𝘩𝘢𝘴𝘦 1 : 𝘛𝘩𝘦 𝘙𝘦𝘢𝘭 𝘖.𝘎.
𝘗𝘩𝘢𝘴𝘦 2: 𝙉𝙤𝙩𝙝𝙞𝙣' 𝙗𝙪𝙩 𝙖 "𝙂" 𝙩𝙝𝙞𝙣𝙜!
Phase 3: Crazy in Love
𝘋𝘰𝘰𝘳𝘴𝘢𝘭𝘦: more
𝙂𝙧𝙤𝙪𝙥𝙩𝙞𝙘𝙠𝙚𝙩𝙨: 𝙏𝙝𝙚 𝙁𝙪𝙧𝙞𝙤𝙪𝙨 𝙁𝙞𝙫𝙚! (5𝘵𝘪𝘤𝘬𝘦𝘵𝘴)
*𝘠𝘰𝘶 𝘳𝘦𝘢𝘥𝘺 𝘵𝘰 𝘴𝘩𝘰𝘸 𝘰𝘧 𝘺𝘰𝘶𝘳 𝘥𝘢𝘯𝘤𝘦 𝘮𝘰𝘷𝘦𝘴? 𝘎𝘢𝘵𝘩𝘦𝘳 𝘢𝘭𝘭 𝘺𝘰𝘶𝘳 𝘴𝘪𝘴𝘵𝘦𝘳𝘴 𝘢𝘯𝘥 𝘣𝘳𝘰𝘵𝘩𝘦𝘳𝘴 𝘧𝘳𝘰𝘮 𝘵𝘩𝘦 𝘣𝘭𝘰𝘤𝘬 𝘢𝘯𝘥 𝘨𝘦𝘵 𝘺𝘰𝘶𝘳 𝘴𝘲𝘶𝘢𝘥 𝘵𝘰𝘨𝘦𝘵𝘩𝘦𝘳 𝘵𝘰 𝘥𝘢𝘯𝘤𝘦 𝘢𝘭𝘭 𝘯𝘪𝘨𝘩𝘵 𝘭𝘰𝘯𝘨 𝘢𝘯𝘥 𝘮𝘢𝘬𝘦 𝘪𝘵 𝘢 𝘯𝘪𝘨𝘩𝘵 𝘵𝘰 𝘳𝘦𝘮𝘦𝘮𝘣𝘦𝘳
(𝘦𝘯𝘵𝘳𝘢𝘯𝘤𝘦 𝘰𝘯𝘭𝘺 𝘸𝘪𝘵𝘩 𝘵𝘩𝘦 𝘸𝘩𝘰𝘭𝘦 𝘨𝘳𝘰𝘶𝘱) 𝘔𝘢𝘬𝘦 𝘺𝘰𝘶𝘳 𝘦𝘯𝘵𝘳𝘢𝘯𝘤𝘦 𝘭𝘪𝘬𝘦 𝘢 𝘣𝘰𝘴𝘴!'
**For this event everyone without a vaccin needs to be tested, and put your code in your CoronaCheck App. More info on testing can be found here: www.testenvoortoegang.org/ If you have already been vaccinated you have to put your code in the CoronaCheck App.**
◣ 𝙉𝙊𝙏𝙄𝘾𝙀: ◥
The minimum age is 21+. Besides your ticket, it's absolutely important that you can show a valid ID. We will check for your and our safety on identification. If you don't have your ID, your access can be denied even with a ticket.
𝘞𝘰𝘶𝘭𝘥 𝘺𝘰𝘶 𝘭𝘪𝘬𝘦 𝘵𝘰 𝘣𝘦 𝘢𝘯 𝘢𝘮𝘣𝘢𝘴𝘴𝘢𝘥𝘰𝘳 𝘧𝘰𝘳 𝘙𝘌𝘈𝘓? 𝙂𝙚𝙩 𝙛𝙧𝙚𝙚 𝙚𝙣𝙩𝙧𝙖𝙣𝙘𝙚 𝙖𝙣𝙙 𝙥𝙖𝙧𝙩𝙮 𝙡𝙞𝙠𝙚 𝙖 𝙍𝙤𝙘𝙠𝙨𝙩𝙖𝙧?
𝘚𝘦𝘯𝘥 𝘋𝘮 𝘢𝘯𝘥 𝘫𝘰𝘪𝘯 𝘵𝘩𝘦 𝘛𝘦𝘢𝘮!
◣ PLACE TO EAT? ◥
Happy food & drinks before the party? Check our hide-out www.noonmaastricht.nl situated next to the club.𝘍𝘰𝘭𝘭𝘰𝘸 𝘶𝘴 𝘰𝘯 𝘪𝘯𝘴𝘵𝘢𝘨𝘳𝘢𝘮: 𝘙𝘦𝘢𝘭_𝘮𝘢𝘢𝘴𝘵𝘳𝘪𝘤𝘩𝘵
For up to date information about covid measures and entry requirements, please visit: www.complexmaastricht.nl/information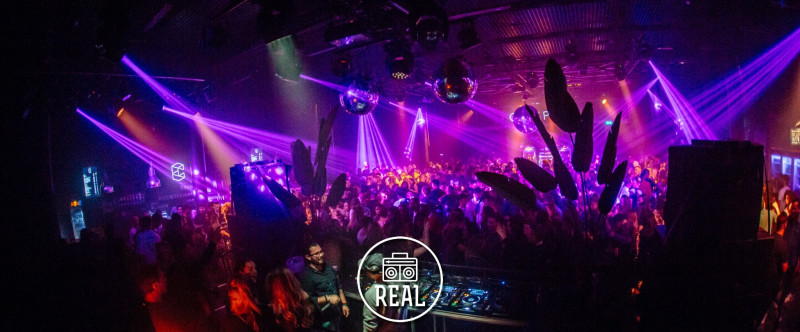 Time & Date
Saturday, 26 February 2022
23:00 - 05:00