Event Info
Ladies and gents, after our successful kick-off we are proud to already share our second edition of Like Minded People!
Previous edition was a blast, let's make this one even crazier! Expect proper house music in combination with our creative designs and all Like Minded People together ♥

LINE UP
- Dusk Till Dawn
- Mick Save b2b REC.
- DJ Dorné

TICKETS
Ticketprice start at €10
Check this ticketlink; https://bit.ly/2lWCc4V

Dusk Till Dawn is absolutely smashing up the clubs in Rotterdam. The last few months this dynamic duo has performed at big events such as Elrow, Rotterdam Rave, Glow in the Dark, and Give Soul w/ Michael Bibi, The Martinez Brothers! Ying & Yang may be the best way to describe their fiery relationship to music. You can expect a clash of raw rolling bass lines and uptempo Tech House beats with an influence of 90's dance classics in a new jacket. They always make a show of their gig and know how to keep the crowd going.

REC. and Mick Save started their musical journey several years ago in the underground rave scene of Maastricht. They destroyed many caves with their sound, which can be described as real minimalistic combined with deep old school basslines. They'll guide you through a musical trip where you can close your eyes and get lost in music.

DJ Dorné is an upcoming artist from Maastricht with a lot of experience in different genres. But his biggest love goes to groovy Tech House and House beats. He will definitely take the party to a higher level with his perfectly chosen beats that makes your body move. "Enjoy The Groovy Vibes"

LIKE MINDED PEOPLE
If you don't want to miss any of our events, make sure to follow us:
Facebook: https://www.facebook.com/likemindedpeoplecomplex/
Instagram: https://www.instagram.com/likemindedpeople_/

PLACE TO EAT?
Happy food & drinks before and during the party? Check our hide-out www.noonmaastricht.nl situated next to the club.
NOON = always free entrance (18+).

NOTICE
After 03:00h there is no more door sale and entrance, even if you have sold a ticket in presale.
Already checked in before 03:00h? You get a stamp to go in- en out till end.
AGE
The minimum age is 18+. Besides your ticket, it's absolutely important that you can show a valid ID. We will check for your and our safety on identification. If you don't have your ID, your access can be denied even with a ticket.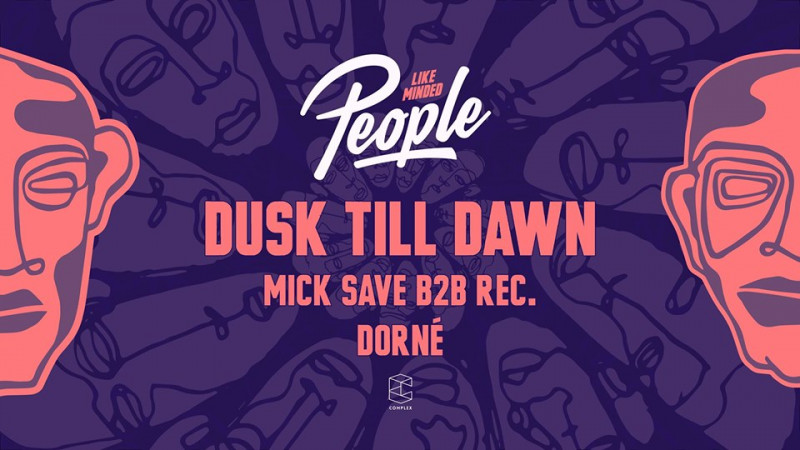 Time & Date
Friday, 01 November 2019
23:00 - 05:00