Event Info
We will break the boundaries between Hardstyle, Raw Hardstyle, Hardcore, Uptempo and Frenchcore once again!
▬ LINE UP ▬
- Warface
- Deadly Guns
- Rooler
- Killshot "Beastmode" live
- Vertile
- Dimitri K live
- Elite Enemy
- D-Ultra
Hosted by MC Barricade


▬ TICKETS ▬
Phase 1 - €22,99
Phase 2 - €24,99
Phase 3 - €26,99
Ticket link: https://bit.ly/Doomslayer-AoVTicket sale starts this Saturday at 12:00 sharp, set your alarm!


▬ NEED TO PARK YOUR CAR? ▬
You can park your car from 21:00 till 06:00 for €5,50 in the De Griend Q-Park, situated directly next to the club. Book a spot through the link down below.
https://bit.ly/ComplexParking


▬ NEED A PLACE TO EAT? ▬
Start your night off right with delicious food and drinks at NOON Maastricht, situated directly next to the club. Make a reservation here: www.noonmaastricht.nl/en/


▬ ENTRY REQUIREMENTS ▬
As of March 23 all corona measures for our club and our beloved cultural scene have been lifted. This means a negative test is NOT needed anymore. Back to the good old days, join us!
The minimum age is 18+. Besides your ticket, it's absolutely important that you can show a valid ID. We will check for your and our safety on identification. If you don't have your ID, your access can be denied even with a ticket.


▬ DOOMSLAYER ▬
Like us www.facebook.com/Doomslayerrr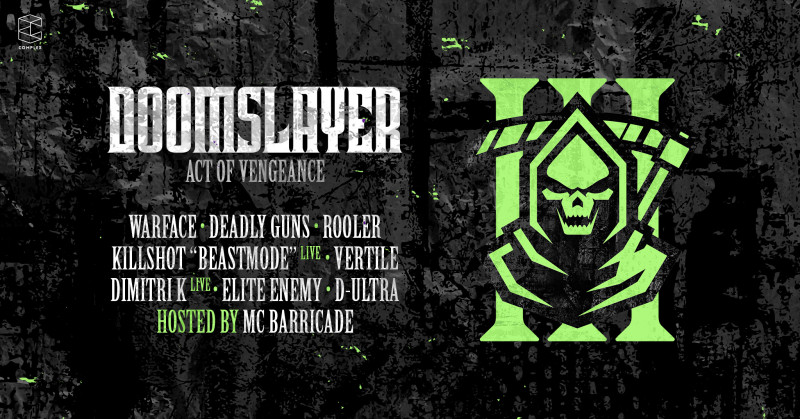 Time & Date
Saturday, 22 October 2022
23:00 - 05:00