Event Info
For the last Claydrum event of the club season, we invited BPitch Berlin frontwomen Ellen Allien with her 'Alientronic Album Tour' cause of het album release 17th of may ♥

One of the great ambassadors of Berlin techno, Ellen Allien presents her brand new album 'Alientronic'. The LP was recorded during the cold winter months in Berlin at the end of 2018, a time when creativity hits a peak in the city. Sub-zero temperatures and dark nights keep the artists locked away indoors, finding time and space to journey inwards and tap into the deepest recesses of their creative energy. Ellen disseminates classic techno and acid tropes through her visionary lens, vocals are looped and warped, tough beats slam down as stirring pads coax us into an emotive realm and we're privy to a spellbinding world full of mysterious exotic allure.

Our second addition is I Hate Models. The young Frenchmen leaves a remnant of ruin everywhere he goes, distorting the natural balance with his own productions. Of course, we didn't think twice about adding the amazingly talented Imogen to this night. Her return was absolutely imminent after she astonished us all at Black Box.

Ravers, beware! This will be the last party of the club season, so stand your ground and rave the shit out of it!


■ LINE UP ■
Ellen Allien
I Hate Models
IMOGEN
Nathan Paul


■ TICKETS ■
Ticket sale starts at 16.03.2019 // 12:00AM!
Ticket link: bit.ly/2XTf0CZ

Phase 1 // €16
Phase 2 // €17
Phase 3 // €18
Phase 4 // €19
Phase 5 // €20

Door tickets // €25


■ PLACE TO SLEEP? ■
https://complexmaastricht.nl/accommodation


■ NOTICE ■
The minimum age is 18+. Besides your ticket, it's absolutely important that you can show a valid ID. We will check for your and our safety on identification. If you don't have your ID, your access can be denied even with a ticket.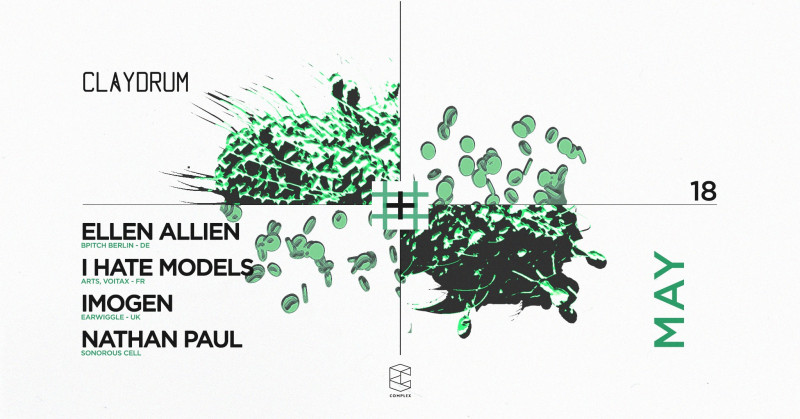 Time & Date
Saturday, 18 May 2019
23:00 - 05:00