Event Info
𝙔𝙤𝙪 𝙧𝙚𝙖𝙙𝙮 𝙩𝙤 𝘽𝙪𝙢𝙥 𝙖𝙣𝙙 𝙂𝙧𝙞𝙣𝙙?! 𝙨𝙞𝙣𝙜 𝙖 𝙡𝙤𝙣𝙜 𝙩𝙤 𝙩𝙝𝙚 𝙝𝙤𝙩𝙩𝙚𝙨𝙩 𝙏𝙧𝙖𝙘𝙠𝙨? 𝘼𝙣𝙙 𝙚𝙣𝙟𝙤𝙮 𝙩𝙝𝙚 𝙫𝙞𝙗𝙚𝙨 𝙛𝙧𝙤𝙢 𝙗𝙖𝙘𝙠 𝙞𝙣 𝙩𝙝𝙚 𝙙𝙖𝙮𝙨? 𝘾𝙤𝙢𝙚 𝙖𝙣𝙙 𝙟𝙤𝙞𝙣 𝙪𝙨 𝙤𝙣 𝘿𝙚𝙘𝙚𝙢𝙗𝙚𝙧 28𝙩𝙝!
— 𝘞𝘩𝘢𝘵 𝘵𝘰 𝘌𝘹𝘱𝘦𝘤𝘵 —
𝘙𝘌𝘈𝘓 𝘢𝘵 𝘊𝘰𝘮𝘱𝘭𝘦𝘹 𝘔𝘢𝘢𝘴𝘵𝘳𝘪𝘤𝘩𝘵! 𝘈 𝘯𝘪𝘨𝘩𝘵 𝘧𝘶𝘭𝘭 𝘰𝘧𝘧 80'𝘴 90'𝘴 𝘢𝘯𝘥 00'𝘴 𝘙𝘯𝘉 𝘚𝘰𝘯𝘨𝘴.. 𝘜𝘯𝘪𝘲𝘶𝘦 𝘣𝘭𝘦𝘯𝘥 𝘣𝘦𝘵𝘸𝘦𝘦𝘯 𝘵𝘩𝘦 𝘩𝘰𝘵𝘵𝘦𝘴𝘵 𝘤𝘭𝘢𝘴𝘴𝘪𝘤𝘴 𝘰𝘧 𝘵𝘩𝘦 𝘱𝘢𝘴𝘵 𝘢𝘯𝘥 𝘵𝘩𝘦 𝘣𝘦𝘴𝘵 𝘴𝘪𝘯𝘨𝘢𝘭𝘰𝘯𝘨𝘴
LINE-UP
𝘙𝘌𝘈𝘓 𝘚𝘰𝘶𝘯𝘥𝘴𝘺𝘴𝘵𝘦𝘮:
𝘋𝘑 𝘉𝘪𝘨 𝘳𝘰𝘣
𝘋𝘑 𝘓𝘺𝘳𝘪𝘤𝘪𝘴𝘵
𝘋𝘑 𝘌𝘭 𝘋𝘰𝘯
𝘏𝘰𝘴𝘵𝘦𝘥 𝘣𝘺: 𝘔𝘊 𝘞𝘪𝘭𝘭
TICKETS
Ticketprice start at €15
Check this ticketlink; https://bit.ly/2Q7fpA3


NOTICE
𝘛𝘩𝘦 𝘮𝘪𝘯𝘪𝘮𝘶𝘮 𝘢𝘨𝘦
𝘎𝘪𝘳𝘭𝘴 20+
𝘉𝘰𝘺𝘴 21+
PLACE TO EAT?
Happy food & drinks before the party? Check our hide-out www.noonmaastricht.nl situated next to the club.
𝘍𝘰𝘭𝘭𝘰𝘸 𝘶𝘴 𝘰𝘯 𝘪𝘯𝘴𝘵𝘢𝘨𝘳𝘢𝘮: 𝘙𝘦𝘢𝘭_𝘮𝘢𝘢𝘴𝘵𝘳𝘪𝘤𝘩𝘵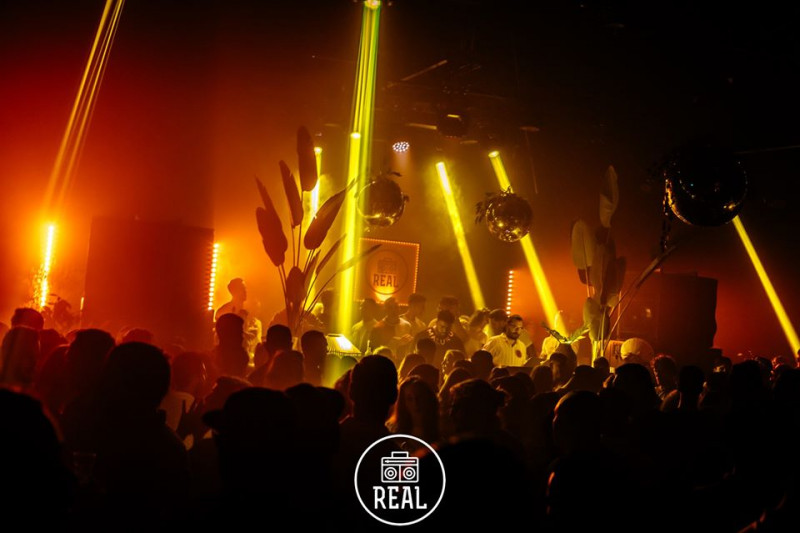 Time & Date
Friday, 24 January 2020
23:00 - 05:00