Event Info
He is truly a renown and respected name in both the underground and mainstream scene. Boys Noize established himself in this world as one of the most preeminent wizards behind the decks. He is an artist and producer that will capture anyone with his unrivaled and uncompromising sound. His own labels Boys Noize Records became a home for multidirectional quality electronic music.
This is only a small description of a huge artist. Boys Noize is a name we are utmost proud to present in our beloved club! ❤

Support will come from local heroes Hush & Sleep and Mercal

■ LINE UP ■
Boys Noize (DE)
Mercal
Hush & Sleep


■ TICKETS ■
Ticket sale starts on 16.02.2019 // 12:00AM
Ticket link: http://bit.ly/BN19Com

Phase 1 // €14
Phase 2 // €15
Phase 3 // €16
Phase 4 // €17
Phase 5 // €18

Door sale: €21


■ HOTEL ■
+ The Dutch
+ Kaboom Hotel
+ Townhouse Hotel Maastricht
+ Mabi City Centre Hotel


■ NOTICE ■
The minimum age is 18+. Besides your ticket, it's absolutely important that you can show a valid ID. We will check for your and our safety on identification. If you don't have your ID, your access can be denied even with a ticket.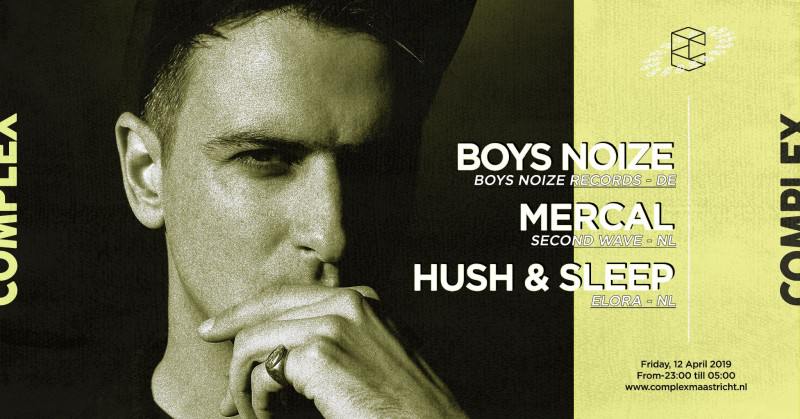 Time & Date
Friday, 12 April 2019
23:00 - 05:00