Event Info
══ 👑Queens & Kings of Maastricht👑 ══
════ ❤️Ladies and Gentlemen❤️ ════

the glory circus is back in town - time to give some love! Are you ready for a one night stand with the Zirkus Beatzarr?
On 23.04. Monty Maaslos and his Partysquad are well prepared with heart confetti to celebrate another lovely escalation!

Are you ready for more wild night
w/ ZIRKUS BEATZARR⁉️

═════ 🎠 Circus-Special 🎠 ═════
The parties of the gloomy savage circus ensemble have gained nationwide attention. Whether they show up in Cologne, Münster, Luxemburg, Düsseldorf or Berlin, this team of madmen is unstoppable.

✖️cotton candy 🍭
✖️confetti 🎉
✖️love decoration 🎪
✖️walking acts 🎭
✖️light show ✨
✖️...and much more 🌐

Everything else would not suit this description.
It can't be told, it can only be experienced!


TICKETS
Ticketprice start at €17,50
═══════ ♫ Sound ♫ ═══════
Music by /
David Puentez, Mircowave & DEEP 91
more TBA

Don't hesitate to go absolutely wild, we will keep things discreet

#zirkusliebe #betterbeatzarr

See ya at circus ❤️
PLACE TO EAT?
Happy food & drinks before the party? Check our hide-out www.noonmaastricht.nl situated next to the club.
PLACE TO SLEEP?
http://bit.ly/ComplexAccommoda...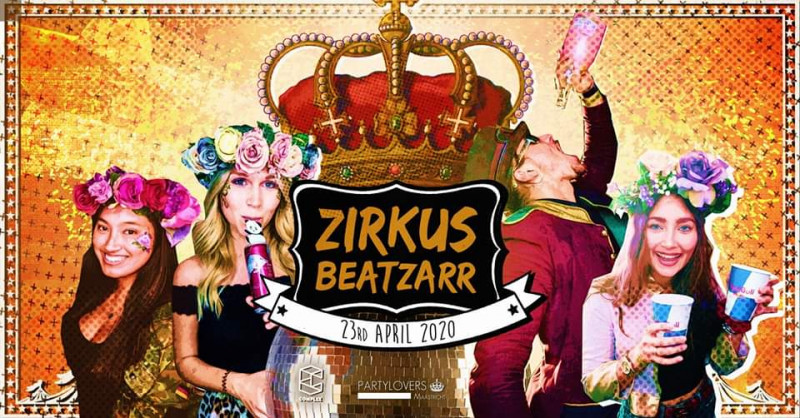 Time & Date
Thursday, 03 September 2020
23:00 - 05:00