Event Info
After 3 month break we´re coming back to Maastricht and bring you the NewSchool Sound back.
_________________
►You want to Party with us until 5am? Check
►You love Newschool HipHop I Trap Music? Check
►You're ready to TurnUp again?! CHECK

PERFECT!
Everybody is welcome as long as you are in the mood to get lit!

On that night, our DJ´s will mix you some music from artists like….
Drake, MIGOS, Lil Uzi Wert, Cardi B, Tory Lanez, Travis Scott, Kendrik Lamar, Chris Brown, Tyga, Post Malone, Ty Dollar Sign, Future, Rae Sremmurd, ASAP Ferg.

No Worries, Dutch HipHop is also included!!

60% Trap Music I 30% Afrotrap I 10% RnB gives you 100% HipHop & NewSchool Sound.
LINE-UP
DJ CaliX (P.w.A Resident)
DON JAY (@Hush Hush Cologne)
Mercy Milano (Hush Hush Cologne)
MC Truemajor (Maastricht)
TICKETS
Ticketprice start at €10
Check this ticketlink: coming soon

PLACE TO EAT?
Happy food & drinks before the party? Check our hide-out www.noonmaastricht.nl situated next to the club.
NEED A PLACE TO SLEEP?
http://bit.ly/ComplexAccommoda...
INFO
AGE: 18+

Bring your Crew, come thru and TURNUP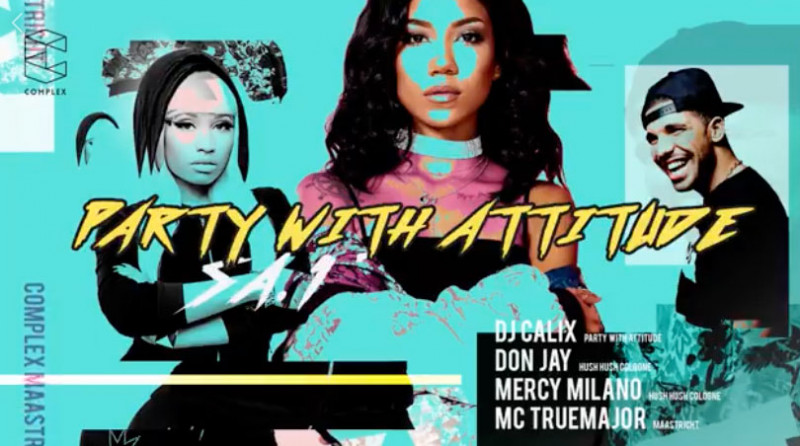 Time & Date
Saturday, 16 May 2020
23:00 - 05:00