Event Info
— LINE UP —
- Rossko (3 hr set)
- Jelled
- Mittom
- Nowel


— TICKETS —
https://shop.paylogic.com/56046a0f97ae49d1b009e19804fa5349
Phase 1 - SOLD OUT
Phase 2 - SOLD OUT
Phase 3 - €12
Phase 4 - €13
Phase 5 - €14

— INFO —
𝐋𝐢𝐤𝐞 𝐌𝐢𝐧𝐝𝐞𝐝 𝐏𝐞𝐨𝐩𝐥𝐞! After months of absence we can finally share our passion for music again with you all in our beloved homebase. Get ready for a night of proper house and minimal music by one of UK's finest artists in the scene. Alongside our dear residents this is gonna be one hell of a daytime ride!- 🄻🄼🄿 -Rossko is one of those DJ's that captures the artistry in mixing and has a total understanding of the dance floor, his DJ sets are slick, groovy and powerful.Those who have witnessed him perform will note not only his diversity in his track selection but his ability to create a vibe rather than just playing to a crowd meaning he can be found at both large scale and intimate events it's no such as Circoloco, FUSE, Kappa & Sonus festival, Robert Johnson, Sub Club & CDV to name a few.- 🄻🄼🄿 -After one and a half years of playing house parties, jelled, mittom and nowel are ready for the real thing. You may have seen them playing at the OHK carnival or during Maastricht open Air a few weeks ago. Let's raise the roof on their next big booking. Expect a selection of their finest (vinyl) records in a groovy-minimal/house set.Expect proper house music in combination with our creative designs and all Like Minded People together
— LIKE MINDED PEOPLE —
If you don't want to miss any of our events, make sure to follow us:
Facebook: https://www.facebook.com/likemindedpeoplecomplex
Instagram: https://www.instagram.com/likemindedpeople_— NEED A PLACE TO SLEEP? —
http://bit.ly/ComplexAccommodation— NOTICE —
The minimum age is 18+. Besides your ticket, it's absolutely important that you can show a valid ID. We will check for your and our safety on identification. If you don't have your ID, your access can be denied, even with a ticket.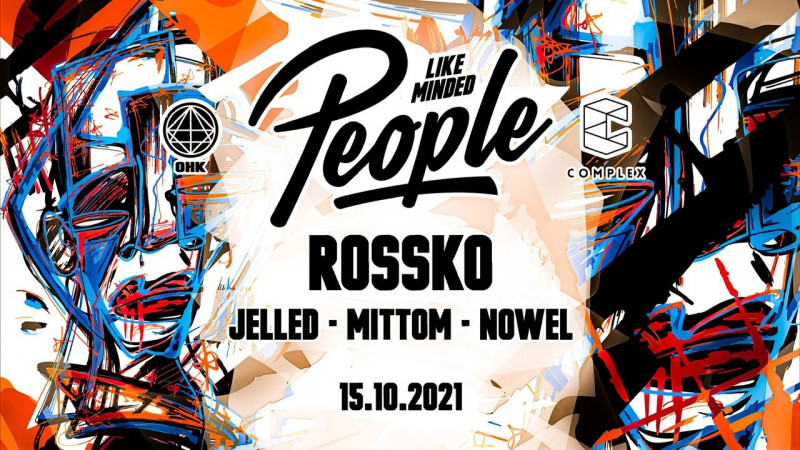 Time & Date
Friday, 15 October 2021
18:00 - 23:59